Journey to Sabah
When talking to Lahad Datu, which shocked the whole nation in 2013, Malaysians commonly bring up the entry of terrorists from the Southern Philippines. Now that the calamity has passed, Lahad Datu, the fourth-largest city in Sabah, has moved on. Few people are aware of its intriguing past. Lahad Datu is a refuge with a variety of plants and animals for people seeking out nature.
Come along on my journey and discover the treasures of Lahad Datu for yourself!
Day 1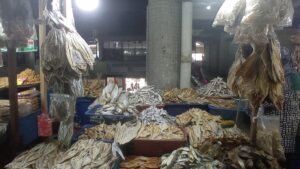 Once we arrived, the first place we go is Tawau Tanjung Market. It is claimed to be the biggest indoor market in all of Malaysia and has 6,000 booths. It's a local market where you may look around and learn about the culture while also exploring local items.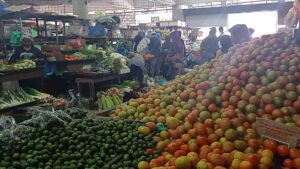 Here, you may get a wide range of fresh foods. You could find whatever it is that makes Sabah special here. Cheap, amiable aunts and uncles with a wide selection of goods sold in one store are excellent buys. must visit at least once when visiting Sabah.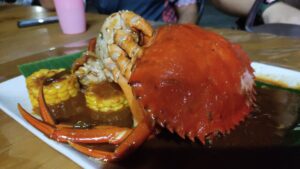 After a hectic day, we checked in at My-Inn Hotel to refresh ourselves and get ready for the dinner. We choose Restoran LD, Lahad Datu as the best place since the concept Welcome Dinner with "Shell Out".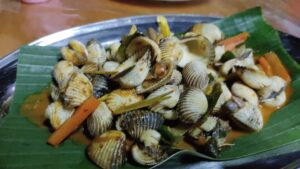 Day 2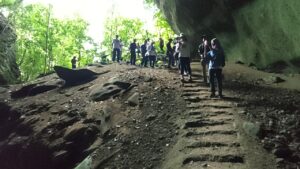 We went to Gua Tepadung after taking a breakfast. Gua Tepadung is home to many captivating tales. There are over 100 little caverns, each with unique features and surroundings. Gua Tepadung was a hub for the manufacture of the white bird's nests managed by the Ida'an community from generation to generation till now during the British North Borneo Chartered Company's control of Segama.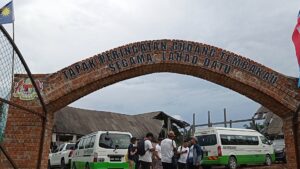 Next, we visited Gudang Tembakau in the afternoon. Although Gudang Tembakau is merely waiting for time to crumble, it is one of the historical gems that still remains unaltered in the Land of Segama. This warehouse continues to stand as proof to the outside world that Segama is one of the historical locations that should not be forgotten. At the time, Segama Estate was the biggest tobacco grower in Borneo and one of the estates in the world that produces tobacco of the greatest quality.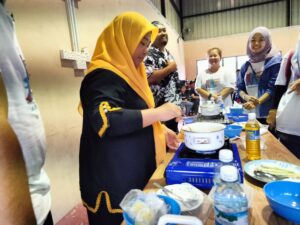 Experience-based activities at Kg. Segama Lama with the neighbourhood Because Kampung Segama Lama used to be the largest tobacco estate in Borneo during the British rule, the settlement has significant historical importance. One of the historical sites in this hamlet is Gudang Tembakau.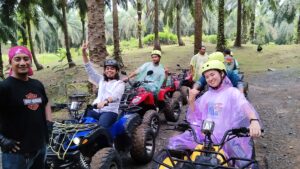 We also get a tour around at Segama ATV Park. Visitors who enjoy extreme sports must visit Segama ATV Park in Segama village, Lahad Datu. The all-terrain vehicle (ATV) route is a little difficult since it is located in a palm plantation region, but it is also thrilling at the same time, especially on wet days when it may be difficult because the track is slick, giving you an adrenaline rush. You will practise getting acclimated to the ATV by riding along a designated circuit before starting on the actual path. I rode the ATV around the circuit a few times to become acquainted.
Day 3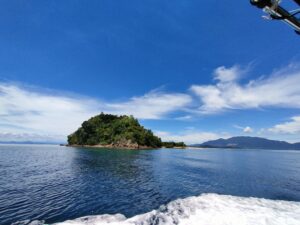 Depart to Blue Ring Hole & enjoy snorkeling. Travelers who love water-based pursuits like diving and snorkelling might stop at the Blue Ring Reef at Lahad Datu, which was formerly known as the "Blue Lagoon" before it was commercialised. It takes roughly 20 minutes to go reach the Blue Ring Reef from Payang Jetty. At the Blue Ring Reef, snorkelers may see a variety of corals and marine life. Avoid stepping on sea urchins and coral by taking caution. In addition, I got the chance to travel to Pulau Baik, which is close to the Blue Ring Reef, and go snorkelling there to observe the wreckage known as the "Japanese Timber Wreck," which is claimed to have sunk more than 30 years ago as a result of overload.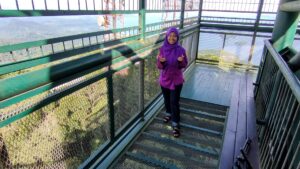 Our journey for the next place is Tower of Heaven. The public debut of Tower of Heaven took place in April 2012 after its completion in 2011. The observation tower is the highest point in the Lahad Datu region and rises 30 metres above Mount Silam's ultramafic coastal forest at an elevation of 884 metres above sea level. The Darvel Bay Islands and Lahad Datu Town are perfectly and serenely seen from above thanks to this. The tower also provides wonderful views of Mount Silam's forest and birdlife to those who are interested in plants and animals.
Day 4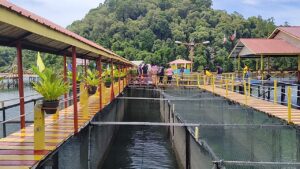 Exploring Irunji Agrotourism. This agrotourism project, which takes its name from the proprietor, Irunji Bin Haji Parija, is now prosperous. Before converting his business into an agrotourism destination in 2019 on the advise of the Sabah Tourism Board, Mr. Irunji initially just raised fish in cages. Fishing, feeding fish, kayaking, and swimming with the fish are a few of the activities. The activities are intriguing to me since I've never totally submerged myself in a body of water filled with enormous yet friendly fish. For further information and reservations, call Irunji Agrotourism at +6 013 896 3808.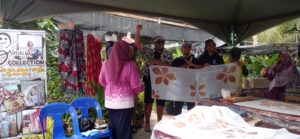 Then, we wen to Eco Print with Batik Block & Shibori Demonstration. Do you know that Lahad Datu has a facility named Alnisya Collection that creates batik artwork? You may learn more about making batiks out of natural materials here. I had the chance to use the hammering technique to create my own batik pattern. Real leaves that serve as design elements are first soaked, and then they are dried with tissue. The cloth is then used to spread out the leaves to dry. After that, the leaves are pounded with a rubber mallet to imprint the designs on the cloth, which I find quite fascinating, especially when utilising this method to create batik. Pokok Jati (Teak) and Telang are two of the leaves that are used (Blue Pea).