Sunshine Bread champions nutritious, healthy bread, and officially launches in Klang Valley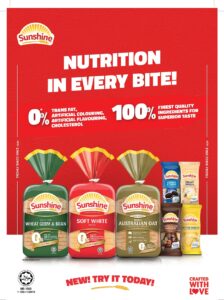 KUALA LUMPUR, 11 OCTOBER 2022 – Sunshine Bakeries, renowned for its delicious and nutritious bread selections, today celebrates the formal opening of its Klang Valley location with baked delicacies created with the utmost care and the finest ingredients.
Expanding to Klang Valley from Seremban is a natural progression as the company is steadfast in its mission to serve a wider group of healthy bread lovers. 
Sunshine Bread Sdn Bhd CEO, Mr Michael Chew said, "With our official launch in Klang Valley, we are excited to invite health-conscious bread lovers to taste the difference with our bread that provides 100% goodness and 0% nonsense, as we believe that healthy living and tasty goodness can go hand-in-hand. Through consumer research, we discovered that Malaysians are still looking for innovative, nutritious bread offerings made with premium ingredients and we seek to fill that gap with our range of products. We hope that Klang Valley residents will enjoy our classic bread loaves and cream rolls that will fuel them through a nutritious sunshine-filled day."
Famously known for its nutritious goodness since 1930, the brand remains committed to crafting the highest quality bread using its signature and traditional recipe that has been enjoyed for generations. Ingredients such as high-quality wheat flour and Australian oats are also sourced from across the world and go through stringent quality checks to ensure that the breads produced are wholesome and tasty. Sunshine Bakeries operates a state-of-the-art facility that meet the highest food safety and hygiene standards, so customers know that they're always making the best choice.
Sunshine Bakeries currently offers loaves like its Soft White, 100% Australian Oat Wholemeal Bread, and Bread With Wheat Germ and Bran bread loaves, which are packed with nutrients and have 0% trans-fat, 0% artificial colouring, 0% artificial flavouring and 0% cholesterol.
Bread lovers will enjoy the well-loved Butter Sugar, Cookies & Cream, Creamy Vanilla, and Chocolate Hazelnut wholemeal cream rolls.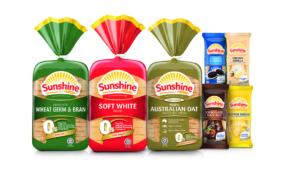 Healthy bread offerings for the entire family
Sunshine's Soft White bread is baked with quality high protein wheat flour, giving it a soft and fluffy texture without compromising on taste. Sunshine's Soft White bread is ideal for those looking for a low sugar option; not only is it lower in sugar, it's also high in calcium, protein and a good source of vitamins B1, B2, B3, and iron. 
Oat lovers will enjoy Sunshine's 100% Australian Oat Wholemeal Bread range which is made with premium Australian rolled oats, giving it a delightfully soft, grainy chew. Australia has one of the cleanest environments in the world and is one of the top producers of food-grade oats that have an excellent taste and aroma. Sunshine's 100% Australian Oat Wholemeal Bread is high in calcium, dietary fibre and comes with 19 grams of whole grain per serving. This bread is endorsed with the Whole Grain Council Stamp which is a distinction of being a healthier choice.
The brand also offers a Bread With Wheat Germ and Bran range that comes with a signature hearty flavour and is high in calcium, dietary fibre and protein for optimum health. The Wheat Germ and Bran range is also low in fat to help one enjoy the tasty goodness of Wheat Germ and Bran while still helping them to maintain a healthy body weight and improve cholesterol levels at the same time.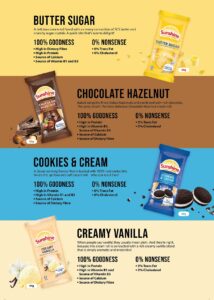 Those who are looking to have a convenient and tasty grab-and-go option can opt for Sunshine's wholemeal cream roll range of Butter Sugar, which is a delicious cream roll fused with creamy premium butter and crunchy sugar crystals, and the Chocolate Hazelnut, which is baked using the finest Italian hazelnuts and combined with rich chocolate. In addition, cream roll lovers can also look forward to Sunshine Bakeries' classic winning flavour, Cookies & Cream, that is loaded with 100% real cookie bits, as well as the Creamy Vanilla, that is simply aromatic and comes with a rich, creamy vanilla blend that is irresistible.
In conjunction with World Bread Day happening this 16 October, bread lovers can celebrate the occasion by savouring Sunshine Bakeries' range of breads and explore different and creative ways to enjoy nutrition in every bite. 
Klang Valley residents can find Sunshine Bakeries' range of healthy breads at selected retail outlets today.